Indiegogo Campaign for Movie with Blueprint Soundtrack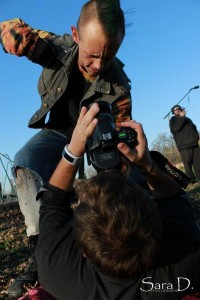 A few months ago, I made mention that I had been tapped to score my first independent film.  The name  of the film is "Friend" and it is now moving into production.  I'm pretty exited and humbled that I was asked to do the soundtrack.  As most of you know, doing anything independent is not cheap, and making a film is no exception.  Everybody aboard the film is doing it pretty much for the love of it, but there are still considerable expenses. Therefore, all of the members of the production team have created an Indiegogo campaign to allow people to contribute to the making of our film.   Please take a minute to review the synopsis and trailer.  If you can dig it and would like to contribute, please do.  Thanks for your consideration.
Synopsis

Toby Steller, a teenager who is always a target for bullies and who doesn't have the best life at home, struggles to be accepted in school and at home. One day another boy by the name of Trey Collins saves Toby from two bullies on the way to school. From that day forward Toby and Trey become good friends, that is until they cross paths with Ricky Fisher and Timmy Olsen, two best friends who decide to bully Toby not realizing the consequence that follows.
Background Project Video for FRiEND from Tony Bumgarner on Vimeo.
INDIEGOGO LINK: FRIEND THE MOVIE