I'm Scoring an Independent Movie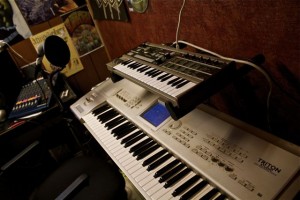 In my book, The Making of Adventures in Counter-Culture, I go into great detail about the role that television and movies have played in creating my music. During my most intense periods of music creation, there are times when I will watch three or four movies a day while I'm in the studio.  Although I don't actively "watch" them – the sound is usually off or very low – they are on in the background providing images and inspiration.
During moments that I've felt stuck, movies have inspired me. The result being many pieces of music that have the movement and emotion of a movie's soundtrack.  Sometimes writing music to a movie that has it's sound turned off causes you to create music that you think should be in the movie.
Well, I've got some friends that are independent film-makers, and one of them asked me if I would be interested in doing the soundtrack for his upcoming movie about bullying, Friends.  I read the script a couple weeks ago, and really dug it, so I happily accepted his offer. It is a huge compliment and I'm honored they asked me.
I'm excited and nervous at the same time.
Even though I've never technically scored a movie, the amount of music I've written to movies makes me feel like I've been doing it for years already. As weird as some people may think Adventures in Counter-Culture is, I've created a lot more weird music that would likely never see the light of day on any of my conventional rap albums.  Doing this movie soundtrack finally gives me an outlet for all that music.
I've worked out something with the director that will allow me to make the soundtrack I create available to the public, which means you guys will be able to check it out.  Even thought the movie itself is in the early planning stages, and nothing will probably be seen for a year or so, I'll try to keep everybody updated as it progresses.  If they decided to do the Kickstarter campaign to help fund the film, I will post that information here as well.
Word is Blog
BLUEPRINT
---
My latest album
Two-Headed Monster
is out now.  Order/Listen here
HERE