Greenhouse "Cold Out Here" music video (HD version)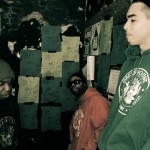 The official music video for "Cold Out Here" Greenhouse (Blueprint & Illogic), from the Electric Purgatory Part One EP, directed by Bangland Media.
Download the EP here:

http://greenhousecrew.bandcamp.com/album/electric-purgatory-part-one-promo-version
or here:

http://www.divshare.com/download/9485766-cbe
Electric Purgatory Part 2 coming soon, featuring guest appearances from Aesop Rock and Toki Wright.
Also, please e-mail me at info(at)printmatic.net if you have a video show and need a clean version of the video and we will send you a download link.
Thanks for the support,
Blueprint