Blueprint News Update – September 2011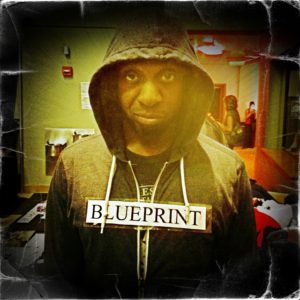 Hey Friends.  It's been a while since I've written so I figured I would write one post that summarizes all the stuff that's been going on.  This will also be my first newsletter that I'm sending to those that subscribe to my mailing list as well. 
Family Vacation Tour
The first leg of the Family Vacation tour has officially ended, and I'm back home for about a week off, before the second leg starts.  The first leg was great, and I would like to thank everybody that came out to a show, shook my hand, picked up some merch, and supported me.  Doing music at home is one thing but going on the road is when you actually get to see the people your music is touching and reaching.   The tour itself was one of most complete and diverse shows that I've been a part of, where everybody on it sounded completely different, and brought something fresh to the table.  It's wild to think that back before I ever considered putting out my own music I was listening to Dilated Peoples 12″ records, and then years later I'm in a van touring with Evidence and DJ Babu.  It's pretty damn fresh.  The second leg of the Family Vacation tour starts on September the 13th in Madison Wisconsin and takes us through a lot of Southern states that I haven't been to in a quite a while.   Here are the dates:
09.13 – Madison, WI @ Orpheum Theatre
09.14 – Louisville, KY @ Headliners Music Hall
09.15 – Athens, GA @ New Earth Music Hall
09.16 – Miami Beach, FL @ The Fillmore
09.18 – Orlando, FL @ The Beacham
09.20 – Jacksonville Beach, FL @ Freebird Live
09.21 – New Orleans, LA @ House of Blues
09.22 – Houston, TX @ House of Blues
09.23 – Dallas, TX @ House of Blues
09.24 – Oklahoma City, OK @ Diamond Ballroom
09.26 – Lawrence, KS @ Liberty Hall
09.27 – Omaha, NE @ The Slowdown
Ohio Shows
Back in 2003-2005 me and Illogic used to play a ton of shows in the smaller markets of Ohio, what we used to call the Weightless Invasion Tours.  We would go to places that nobody was going like Toledo, Kent, Youngstown, Athens, Dayton, Fairborn, Akron, and try to build up there since most people who come through Ohio only play Columbus, Cincy, and Cleveland.  Well, we're going to start doing that again.  We played Kent on Thursday night, we play Cleveland this Sunday night at the Beachland Ballroom & Tavern, and we play in Athens Ohio at Casa Cantina this coming Thursday.  Hope you can make it out to the shows:
9.4.2011 – Cleveland, OH @ The Beachland Ballroom & Tavern – (Blueprint & Illogic)
9.8.2011 – Athens, OH @ Casa Cantina – (Blueprint & Illogic)
Minneapolis & Fargo Shows
Friday Sept 9th – Minneapolis, MN @ First Ave w/ Prof & SoulCrate
Saturday Sept 10th – Fargo, ND @ The Aquarium w/ Kipp G & Tony The Butcher (9pm, 21+)
More Music Videos
Adventures in Counter-Culture is out now, but I've still got a couple more music videos coming soon.  The first is the music video for "Go Hard or Go Home", which I directed.  It's in the editing stages now, but it should hit right around the time the Family Vacation tour starts, so be on the lookout for that.  I've also got an animated video for the song "Wanna Be Like You" being finished right now that will also be coming at you soon.  Keep an eye out!
Rhymesayers tour Europe in November
This one is gonna be great. The entire Rhymesayers crew (Atmosphere, Brother Ali, Evidence, Blueprint, Grieves & Budo) invade Europe this November.  I haven't been to Europe since summer 2008 I believe, so it will be good to return there.  For the details please check out this post: I'm going back to Europe, Europe, Europe.
Here's the dates:
07.11 – London, UK @ The Electric Ballroom: Buy Tickets | RSVP
08.11 – Amsterdam, NL @ Melkweg | RSVP
09.11 – Paris, FR @ La Machine du Moulin Rouge | RSVP
11.11 – Brussels, BE @ Ancienne Belgique | RSVP
12.11 – Zurich, CH @ Rote Fabrik | RSVP
13.11 – Fribourg, CH @ Fri-Son | RSVP
15.11 – Berlin, DE @ Festal Kreuzberg | RSVP
16.11 – Hamburg, DE @ Uebel & Gefahrlich | RSVP
18.11 – Stockholm , SE @ Nalen | RSVP
19.11 – Oslo, NO @ Spikerboks | RSVP
20.11 – Copenhagen, DK @ Vega Musikkenshus: Buy Tickets | RSVP
Blueprint October Tour Dates in the Midwest
Tuesday Oct 4 – Fairborn, OH @ One Eyed Jacks (w/ Copywrite)
Weds Oct 5th – Peoria, IL @ SOP's on Main
Thurs Oct 6th – Iowa City, IA @ Gabes (w/ Toki Wright)
Friday Oct 7th – St. Louis, MO @ Grammaphone
Sat Oct 8th – Columbus, OH @ Skullys (w/ Envelope and RJD2)
New Blueprint Music
While it's true that it took me 5 years to complete Adventures in Counter-Culture, I don't plan on taking that long on my next album. In fact, I've started working on new music already and have a great jump-start on things.  I don't have a name for it, or a release date, or anything like that–I'm just going with the flow and doing whatever feels natural at this point–but I do plan on trying to release a new project next year this time.  I've got enough good material done now to where i think it's completely possible, depending on how hard i bust my ass this winter.
That being said, the first thing that should drop will be a new Greenhouse EP and the long awaited Greenhouse album "Bend But Don't Break".  If you've been following Greenhouse then you know we like to keep it wintery and this winter will be no exception.  More music.  Stay tuned.
That's about all I've got for now.
As always, thanks for the continued support.  I wouldn't be doing this without the people who support me and allow me to do so.
Blueprint
https://printmatic.net
p.s. For those of you that told me you missed out on t-shirts or vinyl while I was on the road, you can pick them up on the store page at https://printmatic.net