New Greenhouse T-Shirt & CD Deal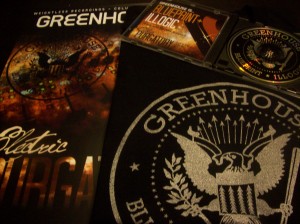 First, Weightless Recordings would like to thank everybody who has picked up the Electric Purgatory EP so far, especially those who also picked up the Greenhouse Hoody + CD combo deal.  Since spring is arriving soon, we would like to announce the next deal which is a Black & Silver Greenhouse T-shirt (printed on American Apparel t-shirt), plus The Electric Purgatory CD/EP w/ instrumentals, and an 11×18 electric purgatory poster for only $15.00.

Thanks for your Support! And yes, I do mail out all orders myself!