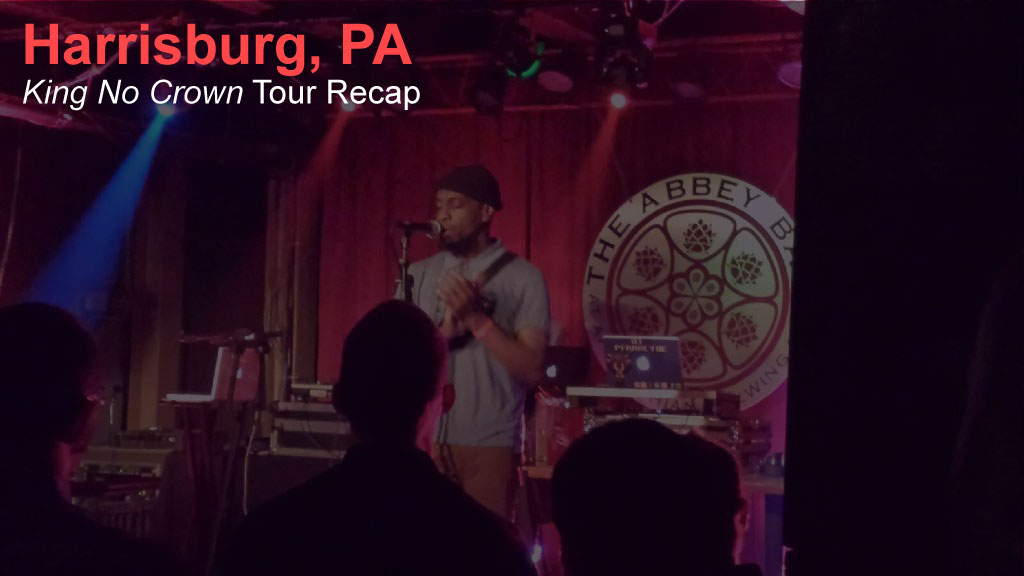 Harrisburg PA – King No Crown Tour Recap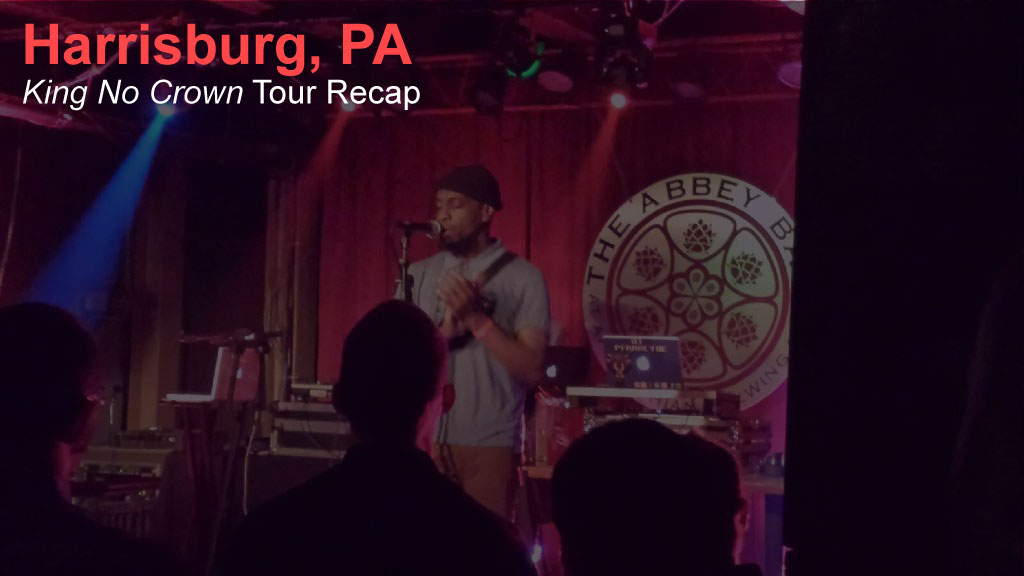 Physically, we were at a bit of a disadvantage going into the harrisburg show because the drive to Harrisburg from Evansville, Indiana was about 11 hours. And once you took in the time change and stops for gas we were looking at a 13 hour drive, which was the longest of the tour. This meant that after the show in Evansville ended around 2am, we immediately started driving to Harrisburg.  I did about 2-3 hours of driving that night before pulling over for an hour or so of sleep, then woke back up around 6 am to continue the drive.  It was rough, especially for just the second day of tour, but me and DJ Rare Groove switched out the driving as we normally do to get the long drives done.
We got to harrisburg around 5:30pm thinking doors were at 9pm and we didn't have to be at the venue until 7pm.  Fortunately, I double-checked the schedule and saw that doors were actually at 8pm and we needed to be there at 6pm.  All of us rushed to get cleaned up, dressed, and out the door as fast as possible.
Last night was our second time in Harrisburg PA, a city that I don't think many artists bring their tours.  That's unfortunate because the vibe of the people in Harrisburg is pretty dope.  The city itself has an industrial feel to it that's very reminiscent of Pittsburgh, but honestly a lot of cities in Pennsylvania have that similar vibe to them.  Cities that you know at one point had an economy that was totally reliant on manufacturing, but have since moved on, leaving some wild looking factories and manufacturing buildings all over the place.  The people here remind me of Ohioans.  There's just a really blue collar feel, and way of communicating with each other that I really dig.
The sound man at the venue was kind of styling on us last night.  I could probably write two or three paragraphs of all the funny interactions and slick things he said to me and some of the other performers last night, but everybody there had a funny quote from him. From telling me to use a separate mic for my horn (and me politely saying no thank you), to telling us that mixers go bad on tour and our mixer had to be the cause of the static in his system, to telling Kam his was "cupping the ball" of his mic–the man was on a roll. And his nick name was "Chilli" which means he wins automatically.  Years of touring has taught us that arguing with soundmen is always a losing scenario, so we worked with him as much as we could.  But make no mistake–we knew that ultimately you can't tell a soundman shit.  They are all experts and never wrong.
The artist that brought us out, Windchill, had a great set. He always kills it. Some mic feedback problems interrupted a small portion of it.  I was glad he said something because I sure as hell wasn't about to say anything else to Chilli about it.
Supastition got up and killed it.  His energy was off the chain, but I'm not sure he will have a voice if he does that every night for a week straight, let alone for 60+ nights.  We chopped it up about that today.  There's a pace that you have to rock on tour that's completely different than what you would do at a one-off show because you need to make sure you don't lose your voice and have something left for the entire tour.  It's not hard to do, but it does take some practice. From what I've experienced, the first week of tour is the most dangerous, so you've gotta be careful.  I think he will be just fine with a couple of minor adjustments.
Me and Rare Groove made a gang of mistakes during our set on the first night of the tour, but most of those got fixed in Harrisburg.  But as things usually go during the first week, there were also new mistakes being made.  Small things nobody in the crowd noticed, but things we always try to perfect. It's always like that, but when you're doing 60+ shows you don't really let it get to you.  Plus the crowd was really rocking with us last night, which always helps.  There was a great vibe in the room during our set. It was great to see some people knowing the words to certain songs on King No Crown already.
I sold lots of merchandise last night. Definitely the most I've ever sold here.  It cause there to be a decent line for me to get people their stuff, but almost everybody was understanding and patient.
There was one guy who stole two of my CDs because he wasn't patient enough for me to get my credit card reader working.  The line was backed up for people buying merch so it seemed pointless to go find him and ask for my money.  I saw him walk off and just said fuck it.  Plus it's always weird when somebody steals your music or t-shirts like that.  I swear it happens once every tour. They like my music enough to want it, but don't respect me enough to pay for it. Weird shit.
Another guy came up at the very end, after the place was almost empty, and I couldn't tell if he was trying to compliment me or insult me. But he was moving around real nervously like he was high.  I was confused by the whole interaction. He was basically telling me since I wasn't commercial I didn't matter, then would tell me that I was dope and he would introduce me to his "famous" rapper friends.  In response, I told him that I had no desire to make mainstream music and was already successful. I don't know if it was because he was high or drunk, but he seemed very confused by this.  And his nervous movement made it look like he was on the verge of swinging on me for what I said. Real confusing stuff. But nothing that would ever impact my feelings on playing in Harrisburg.  Maybe I just expect that stuff every now and then so it doesn't really bother me.
All in all it was a great night, especially for us driving 13 hours and only having two hours of sleep.
Anyways, that's it for this recap.  We're off to DC tonight for a show at Heaven and Hell.  I have never actually headlined a show in DC, so I don't know what to expect.  I'm hoping it goes well.  Come check me out if you're in the area.
Word is blog.
p.s. Here are the remaining tour dates.  We've added about 4-5 more that we will be adding as well.
5/23 – Washington, DC – Heaven & Hell | http://on.fb.me/1Iq1rN4
5/24 – Raleigh, NC @ The Pour House | http://on.fb.me/1N4v0qd
5/25 – Charlotte, NC @ Snug Harbor |http://on.fb.me/1FT8QVD
5/27 – Nashville, TN @ The Stone Fox |http://on.fb.me/1bqhNun
5/28 – Knoxville, TN @ Long Branch |http://on.fb.me/1Cm4Lb6
5/29 – Boone, NC @ The Local |http://on.fb.me/1Hz8e9A
5/30 – Asheville, NC @ Timo's House |http://on.fb.me/1BoSOg2
5/31 – Columbia, SC @ Back Alley |http://on.fb.me/1HwsJjO
6/01 – Atlanta, GA @ 529 |http://on.fb.me/1y11j0r
6/03 – Gainesville, FL @ The Backyard | http://on.fb.me/1Bgj7Gc
6/04 – Orlando, FL @ The Social |http://on.fb.me/1ENf2gb
6/05 – Jacksonville, FL @ Rain Dogs |http://on.fb.me/1bqinrV
6/06 – Fort Myers Beach, FL @ Nervous Nellie's | http://on.fb.me/1BKHzP1
6/07 – Dunedin, FL @ The Dunedin Brewery (FREE SHOW) |http://on.fb.me/1FzPxSw
6/10 – New Orleans, LA Hi-Ho Lounge
6/12 – Austin, TX @ Flamingo Cantina |http://on.fb.me/1bqisMh
6/13 – San Antonio, TX @ Fitzgerald's | http://on.fb.me/1BoT2Uw
6/14 – Fort Worth, TX @ Lola's |http://on.fb.me/1BoT3Yp
6/17 – Albuquerque, NM @ Burt's Tiki Lounge | http://on.fb.me/1C7w3Rf
6/18 – Santa Fe, NM @ The Underground at Evangelo's |http://on.fb.me/1HzafCF
6/19 – Colorado Springs, CO @ Flux Capacitor |http://on.fb.me/19hqZ2z
6/20 – Denver, CO @ Moe's | http://on.fb.me/1bqiDqQ
6/21 – Grand Junction, CO @ Mesa Theater |http://on.fb.me/1xev2YB
6/22 – Cortez, CO @ Blondies
6/24 – Los Angeles, CA @ Dragonfly | http://on.fb.me/1K6RrZU
6/26 – Reno, NV @ Holland Project | http://on.fb.me/1DQmgzU
6/27 – Santa Cruz, CA @ Blue Lagoon | http://on.fb.me/1bxL8TO
6/28 – San Francisco, CA @ Honey Hive | http://on.fb.me/1OIRLis
6/29 – Lake Tahoe, CA @ Whiskey Dick's | http://on.fb.me/1DQmCqj
7/01 – Eugene, OR @ Lucky's | http://on.fb.me/1aTBKsz
7/02 – Portland, OR @ Hawthorne Lounge | http://on.fb.me/1d2qeNg
7/03 – Juneau, Ak @ Rendevous Bar | http://on.fb.me/1Plsuge
7/04 – Sitka, Ak @ Bayview Restaurant & Bar | http://on.fb.me/1HuFRZ4
7/05 – Seattle, WA @ Nectar | http://on.fb.me/1G9bGT1
7/07 – Boise, ID @ Shredder | http://on.fb.me/1JeDcVm
7/08 – Idaho Falls, ID @ Sickhouse | http://on.fb.me/1GkcZBb
7/09 – Missoula, MT @ The Real Lounge | http://on.fb.me/1yUz21H
7/10 – Great Falls, MT @ Machinery Row | http://on.fb.me/1EgwQl7
7/11 – Minot, ND @ Souris River Brewery | http://on.fb.me/1Ga6v5b
7/14 – Duluth, MN @ Red Herrig Lounge | http://on.fb.me/1byxeko
7/15 – Sioux Falls, SD @ Billy Frogs | http://on.fb.me/1DDYYKu
7/16 – Lincoln, NE @ Bourbon Theatre | http://on.fb.me/1GlFUYg
7/17 – Minneapolis, MN @ Icehouse | http://on.fb.me/1K7WB87
7/20 – Kansas City, MO @ Riot Room | http://on.fb.me/1bl7gAd
7/23 – Osh Kosh, WI @ Reptile Palace | http://on.fb.me/1Ga7eDm
7/24 – Traverse City, MI @ The Hollow | http://on.fb.me/1Jg44o3
7/28 – Manchester, NH @ The Shaskeen | http://on.fb.me/1DlSSiJ
7/29 – Portland, ME @ Asylum | http://on.fb.me/1d3wLaw
7/30 – Boston, MA @ Middle East Upstairs | http://on.fb.me/1QmZ8j9
7/31 – Buffalo, NY @ Studio at The Waiting Room | http://on.fb.me/1Dg8F1c
Pick up "King No Crown" here: http://bit.ly/1w6N4eK
BLUEPRINT
---
My latest album
Two-Headed Monster
is out now.  Order/Listen here
HERE