From Stuck to Unstuck: Don't Sweat the Small Stuff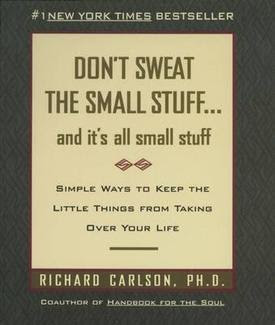 About a week ago, I realized I was stuck.  I noticed it because I was having one of those days where I wanted to do something creative but, no matter how hard I tried, I couldn't produce anything.  As I took a step back, I saw that my lack of productivity had lasted a lot longer than I had initially realized.  It had been going on for over a month.
I had to admit that I was officially stuck.
I'm not sure how it happened so fast. Being stuck in one creative area has never been a big problem because I would just shift my focus to another one.  When I couldn't make beats, I would work on video projects.  When I wasn't inspired to work on video projects, I would do some writing. And when writing didn't work, I would read.  By the time I went through all those areas, my desire to make music would always come back.  Apparently, not this time. This time around, I was stuck in every creative area.
For well over a month, I hadn't finished reading any books, hadn't written any new songs, and my blog writing hadn't been consistent.  A video project I had been working on for a friend had seen very little progress.  Even my twitter timeline was looking pretty sparse.  It was bad, and it had been that way for almost a month.
Admittedly, I've had a family situation that has been hanging over my head for the past month.  I knew that situation was impacting my work, but luckily it had stabilized a bit in the past couple weeks.  Unfortunately, I was still feeling stuck and my creative output hadn't recovered.
I stopped in my local thrift store last week because I saw they were having a 50% off sale.  As expected, the place was a madhouse.  I went straight to the used book section looking for some cheap gems and found a few good books for 50 cents each.  One was a small book called "Don't Sweat the Small Stuff" by Richard Carlson.
While I was initially hesitant about starting another book when I had a couple unfinished ones hanging over my head, I peeked at "Don't Sweat The Small Stuff" a couple days ago. So far, it has been exactly what I needed. The book is made up of hundreds of small tips to help simplify your life and make it more enjoyable.  Each chapter is no more than two pages and it's extremely easy to read.  I'm not sure how I never heard of this book before – apparently it's really popular and was a best-seller at one point – but it's great.
"Don't Sweat the Small Stuff" has made me realize how all the things on my mind have hurt my ability to live in the moment. I was in a great position to be creative but I was over-thinking everything.  It's almost impossible to create art or anything else if you don't have a clear head and can't live in the moment.  I've read about nine or ten chapters in this book since Friday and, to say the least, it has been the best thing that has happened to me in a while.
I would highly recommend "Don't Sweat The Small Stuff" to anybody that feels stuck.  Not just creatively stuck, but in regular life as well.  The book is not specifically for creative people – it's for people who want to live a happier life – but it has played a big role in helping me get unstuck. Living a happy and fulfilling life is impossible if we're bogged down by constantly worrying about things we can't control, and this book gives a lot of common sense techniques for avoiding and fixing that problem.
I spent Sunday and Monday in the studio and had the most productive days down there I've experienced in a long time, writing three new songs in two days.  I haven't had an output like that since a couple summers ago. That was the summer I was able to make about 25-30 new songs and finally had enough songs to finish Adventures in Counter-Culture. I hope to continue the momentum that I've got right now and use it to finish my next album.
Word is Blog
BLUEPRINT
---
My latest album
Two-Headed Monster
is out now.  Order/Listen here
HERE