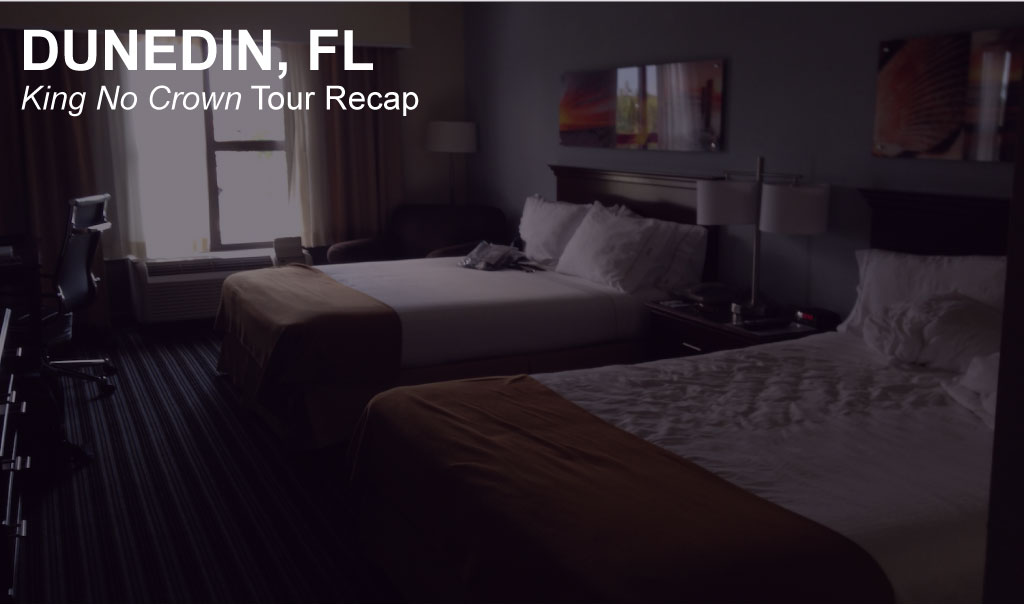 Dunedin, FL – King No Crown Recap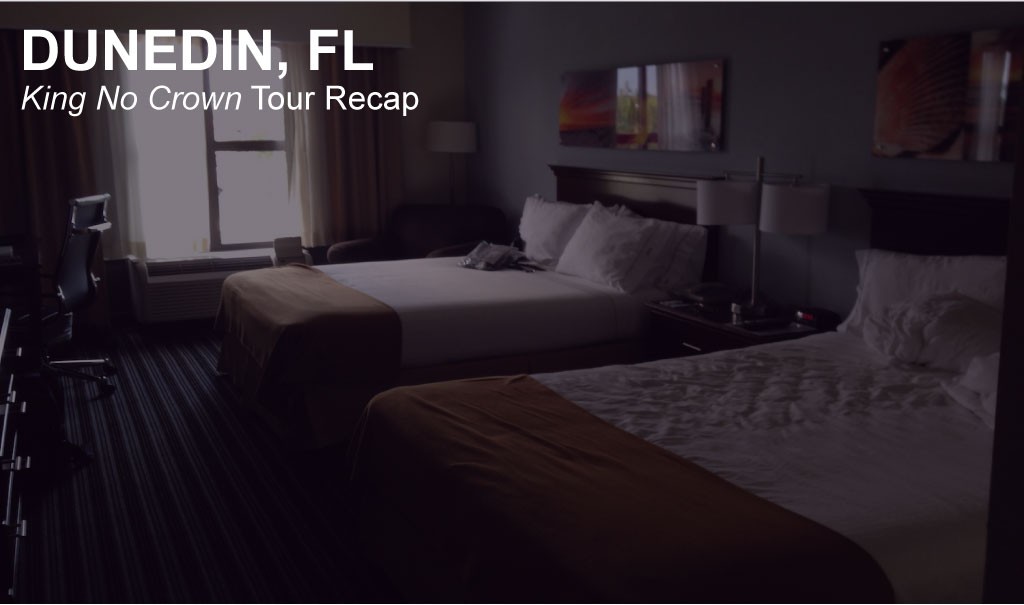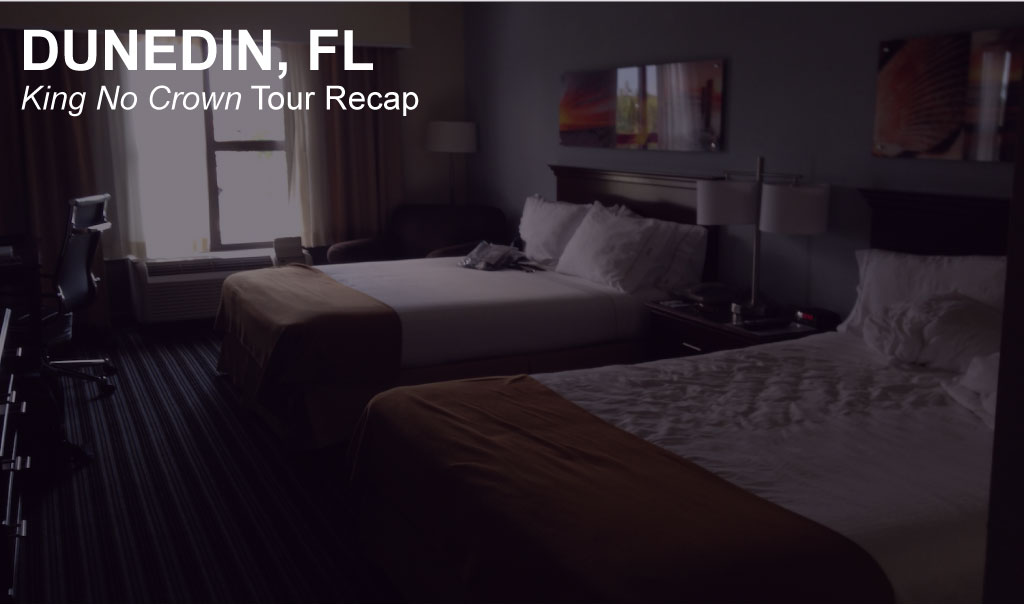 To be completely honest, I had never heard of Dunedin, FL until I was booked to play there last year.  Since 2011, I have been coming to Florida and putting in a lot of work here, and even though I had played a lot of markets down here, I don't think I had ever mentioned the city's name get mentioned.  It wasn't until my guy Swamburger mentioned that his former roomate Jon had just moved back there that it started coming up in conversation.  I found out that Dunedin FL was just outside of Tampa, had a growing hip-hop scene, and might be worth a shot since my last Tampa show went really well.  I'm always down to try new markets out, so Count Bass D and I performed there for the first time in 2014 on the Respect the Architect tour.
I'm glad we made that decision because our Dunedin FL show ended up being one of the best stops of the Respect the Architect tour.  Turnout was great and the energy of the crowd was amazing.  Given our previous success there, we had to do it again.
Since we were in Cape Coral the night before, we got into town around 1pm, and headed over to the venue.  We were supposed to stay in their artist apartment that's behind the venue, but the band who played the previous night was still there and hadn't completely left yet.  But instead of being a bad situation where we would have to wait for them to leave, this turned out to be a good thing because the venue decided to buy us two hotel rooms at a really nice hotel one block away.  They weren't supposed to do this (and certainly didn't have to), so the gesture meant a lot to us. As a general practice, we try not to expect anything from any venue or promoter than what they agree to when they book the show, but gladly appreciate any extra hospitality.
We have been having issues on this tour where most of the openers do not show up for soundcheck or show up just before they're scheduled to play.  This causes a lot of problems during the night because the soundman doesn't know what they need to play and has to do it on the fly.  It's also bad because the time it takes them to get setup pushes the show off schedule, which effects the time that I'm supposed to hit the stage.  But that wasn't an issue in Dunedin. Every single opener (Jon Ditty, Rival, & BC) arrived at least an hour and a half before doors.  They were all setup, sound-checked, and ready to go before doors opened. We have dealt with a lot of unprofessionalism out here,so it was so refreshing to be playing with openers who were professional.  Not only did they show up early, they played great sets, and all stayed within their time limits. It was great.
I also have to give BC, Jon Ditty & Foundation, and Rival a big shout out because they actually did a good job promoting the event and actually brought out who wanted to see them play. You would be shocked at how many cities I play in where there are opening groups who literally cannot even get 2-3 of their friends out to see them play!  The turnout at this show was good by one hour after doors opened, even better by the time Rival played, and packed by the time I got on stage.
My guy Supastition killed it, having one of his best nights on tour.
As far as my performance, this time around, Dunedin might have actually topped our first show there.  It was a really powerful set last night.  The crowd was singing along to almost everything I performed. I even played "Great Eyedeas Never Die" for the first time this tour. It's a song that can sometimes be emotionally tough on me, but because the crowd was so with me, I decided to do it anyway and I'm glad I did.  I can't guarantee I'll play that show every night but some nights are special enough to play it.  Last night was one of those special nights.
After I finished my set I sold merch, signed stuff, and took pictures for at least 30-45 minutes.  The line was long so some people got frustrated and left, but for those that stuck around I appreciate your patience.  I try my best to speak to everybody that comes out to my shows and thank them personally, but I am not perfect.  But even that couldn't take away from a great night.
Thank you Dunedin, FL for an amazing night.  I will be seeing you all again very soon.
Word is blog.
BLUEPRINT
---
My latest album
Two-Headed Monster
is out now.  Order/Listen here
HERE