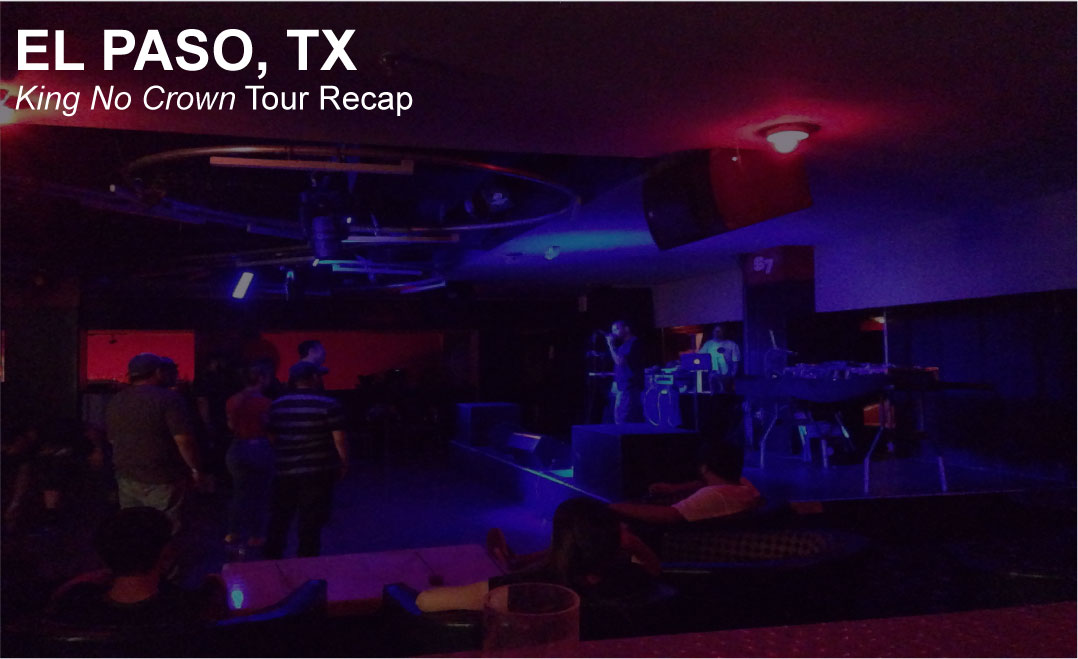 El Paso, TX – King No Crown Tour Recap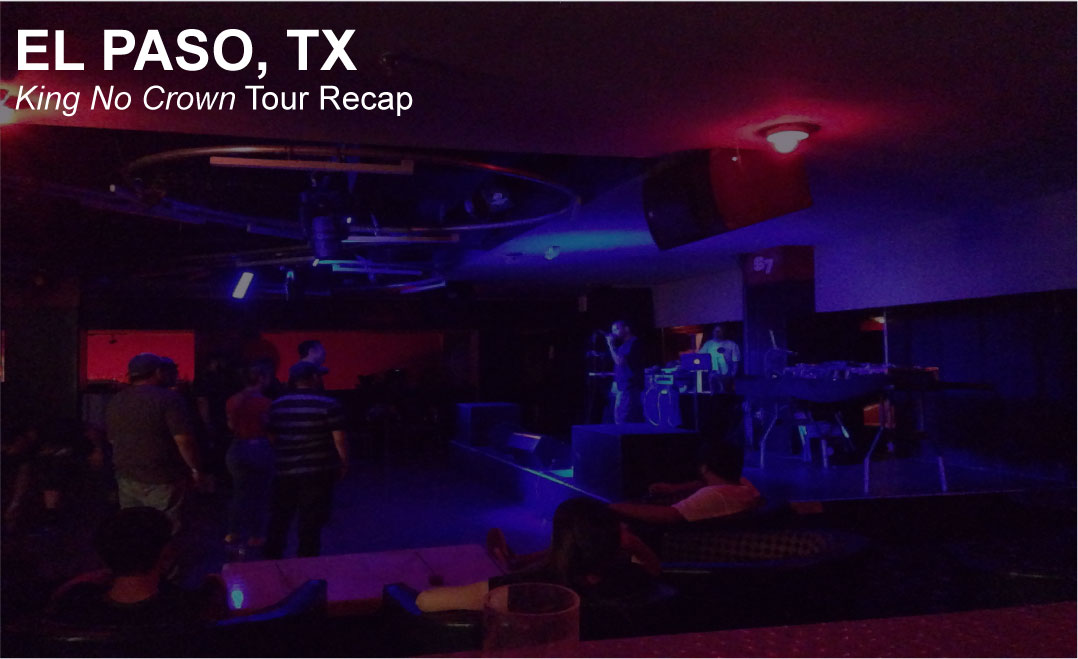 I've had a lot of success in El Paso in the past. In fact, prior to last night, I can't say I've ever had really bad experience there, which is saying a lot considering I've been going there and headlining shows for the past ten years. My first time playing in El Paso was the week before my 1988 album was released in the spring of 2005. It was also the first time that we experimented with trying to play a week's worth of shows in a single state that wasn't Ohio. The show itself was great and we made a lot of contacts and friends that I still keep in touch with to this day. I actually really dig El Paso, especially the people there.
But last night was one for the books.
It was one of those days where everything starts out right, but seems to unravel as the day goes by.
Earlier in the day my people told me the promoter requested us to be at the club at 6:30pm for load in and sound check. So we headed there at 6:15 and got there on time. The promoter wasn't there yet, so we started loading into the venue; a task made tougher because the venue was in a basement that had no elevator. Once we got all of our gear into the venue we realized that we were the only people there and it was pitch black in there. Nobody who was there had any idea how to turn the lights on so we just sat there for a while confused. But because we knew we only had an hour and a half until doors opened we had to start setting up our gear, whether we had lights or not. So in the dark, we started working.
We discovered a set of turntables with its own set of subs and monitors in the middle of the stage. The subs by themselves were probably a hundred pounds each and had to be moved just for us be able to perform, so we disconnected the subs and monitors and moved them to a better place on the stage, out of our way. The only light we had was our cell phones at this point. It took us about 30 minutes just to disconnect all those speakers from the amp, disconnect the previous DJ setup, and move them to where they needed to be.
Next we setup our own gear. This took about 15-20 minutes. By now it is after 7pm, we are still in the dark, and nobody is at the venue yet. Not the soundman and not the promoter, and doors for our show were opening in 45 minutes. That's when we started to get a little concerned.
When I started calling around and texting, I found out that the guy running the show's car had broken down. He said he was on his way, but wouldn't arrive until 30 minutes later at the time doors were already set to open. When he arrived he told us that the soundman who was supposed to be there working our show decided to quit that day and no showed for our show.
At this point, we have no soundman, none of us are familiar with the soundsystem because it's setup more for night club dance nights than live performances, and we're wondering if the show is even going to happen because their system was setup all weird. So we started working. For the next hour, we rolled up our sleeves and worked on getting the system wired right so we could have a show. From the subs that were disconnected, to the monitors being disconnected and wired wrong, to the system only playing on one side of the room, to trouble-shooting bad XLR cables all over the place—it was a mess.
We were just hoping to have it done by the time the first opener was supposed to go on, but the slow progress made me start to entertain the idea of canceling the show. By the time we got the sound system decent enough to proceed with the show it was almost 10pm, two hours after doors opened.
While we were trying to fix all of this, a few fans trickled in. By the time we got the system up, there were about 15-20 people there for the show and I was totally exhausted. I'm sure they all watched me running back and forth for over an hour but I'm not sure they knew what was going on.  Then we were told that there was a Cali Agents (Planet Asia & Rasco) show going on at the same time as ours. Plus the NBA finals were on so some of our people would probably be late, if they came out at all. But by then we didn't give a fuck about any of that, we just wanted to play our show for the few people who came out. So we did. I doubt any of those kids knew what we had to go through just to avoid canceling the show, but they gave us a lot of energy on stage; easily more than most of the bigger crowds we've played to. We gave everything we had on stage and by the end of it we were glad we powered through all the adversity. After the show concluded, we stayed for another 30 minutes to sign CDs and take pictures for the 15 or so people who came out.  It was by far the smallest El Paso crowd I had ever played into, but after everything we had been through to avoid canceling the show it felt more rewarding and satisfying playing for them than almost all my other shows there.
In the end, it went from being show that almost got cancelled to a show that I'm glad I played.
After our show, some of our people from El Paso asked us to stop by the Cali Agents show across town after we packed up and loaded all of our gear out. We got there around 12:30am and the last opener was just now finishing up their set. There were about 40-50 people at their show, but as soon as I walked in a lot of their fans came up to me and showed me a lot of love; asking me to sign things and take pictures. A lot of them said they wanted to come to my show but saw that the venue's facebook event page listed the door time as 7pm (a mistake I didn't catch until it was too late), so they thought it was an early show even though it wasn't. I met the promoter of the Cali Agents show and he said he was trying to get our promoter to combine our show with theirs so they wouldn't be competing, but couldn't make it work in time.  He was happy to see us show up at their show to support and was really hospitable to us.
The vibe in the room seemed cool at first, but when the Cali Agents (Planet Asia & Rasco) took the stage it immediately changed. From their opening song, they were constantly complaining about the sound, which actually sounded decent from the crowd where I was standing. It escalated every song until they were all out insulting the soundman (who was also the promoter) and disrespecting him in front of the entire crowd. I saw their soundman scrambling, running around the club, back and forth to stage trying his hardest to fix what they were complaining about, but they still kept screaming at him every chance they could get. I was standing next to one of their fans and he said, "Man…that's not cool…I don't like how they're handling that." Then he asked me if I had any copies of my vinyl with me he could buy, so I walked out to the van, got a copy of King No Crown and brought it back inside for him.  While I was signing his vinyl, the Cali Agents were still screaming about the soundman, saying it was the worst sound system they had ever seen in their life and the sound system was a piece of shit. The more they complained, the more the crowd started to get fed up with them, especially since most of them had been there since 9pm and they didn't hit the stage until 1am on a Monday night.  I couldn't blame them because I had only been there 15 minutes and I was getting tired of it too.
We decided to leave a couple minutes later. During the drive home we couldn't help but feel more confident about the way we handled our circumstances versus how they handled theirs.
The doors for their show opened at 9pm and they decided not to go on stage until 1am on a Monday night. Doors for our show opened at 8pm and we fought tooth and nail to get our show started by 10pm, just so we could be finished well before midnight and our fans could be able to make it to work the next day.
They felt their sound system was the worst thing ever, but we showed up at a club that basically didn't have a working sound system at all. We literally had to roll up our sleeves and put in work to get our sound system working just to be able to do a show; all in front of our fans.
They were cursing out a soundman who was working hard to fix their sound, but we didn't even have a soundman all night and still did our show.
From what I heard from my people who stuck around, the majority of their crowd got sick of them complaining and left about halfway through their set. I also heard that only one or two fans even stuck around to meet them after their set and that they got into an altercation with the promoter/soundman after the show about their disrespect.
The entire thing made me feel even more appreciative about what we had and how we handled it with class. Part of me wished I could have explained to the Cali Agents what we had been through just to play our show, because maybe it would have helped them see that their situation wasn't that bad after all. But even if they never see it, we saw it. And that's what counts.  It was one of those days that reminded me of what touring is about; doing your best to bring the music to the people every night, regardless of what circumstances you face every day.
Word is Blog.
BLUEPRINT
---
My latest album
Two-Headed Monster
is out now.  Order/Listen here
HERE