AUDIO: Blueprint guest appearance on MMA Uncensored Show (1/16)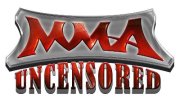 For all my MMA fans out there, I did my second guest appearance on the MMA Uncensored show last night.  We talked about UFC on Fuel and the upcoming UFC 144 Fight card.  If you missed me last night during the broadcast, I've attached the audio of the program last night.  Check me out:
http://www.divshare.com/direct/16817130-01d.mp3
Shout outs to Chi Town Luke and the crew for having me on again.