Why Lebron James won't win a ring with the Miami Heat next year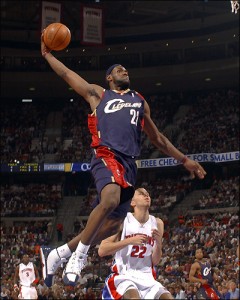 Being an Ohioan, I would often get asked my thoughts on the Cleveland Cavaliers and Lebron James. People would sometimes ask me if was I a Cavs fan, and my reply would usually be "Nope, I'm not a Cavaliers fan, I'm a basketball fan."  I'm a self-confessed basketball fan, to say the least.  I played varsity basketball 4 years of high-school, and was recruited by some division 2 and 3 colleges had i decided to keep pushing. But realizing that I was never going to make it into the league, and seeing that the benefits of starting on a big high school team far outweighed sitting the bench at a small college made the decision easy.  I decided to study Computer Science, got into making beats, and the rest is history.
However, I'm still a big fan of basketball.  I love great team ball.  I love great team defense.  While I do appreciate the ability of one person to put up big numbers every night, there's just something beautiful about a team playing in sync on both ends of the floor that feels more exciting to me.
But i digress, because this blog is about Lebron James and his move away from the Cleveland Cavaliers and to the Miami Heat.  To many people's surprise I honestly didn't care much about him leaving the Cavs.  I'm a basketball fan, and they just didn't play good ball.  Mostly because they had a team filled with has-beens, current bums, and future bums.  Their development of younger talent (aside from Lebron) was terrible, and their knack for finding washed-up free agents and paying them too much was uncanny.  Plain and simple, their GM Danny Ferry should have been fired years before he actually quit.  To no fault of his own, Lebron never had the supporting cast his competitors had.
I could go on for pages about why the Cavs sucked and fell short time-after-time but it doesn't matter anymore since Lebron James is gone now.  What I do want to comment on is his future, and why i think he may have fucked up big time going to the Miami Heat, and therefore why lebron James won't win a ring next year.  Here's why:
Lebron James and Dewayne Wade play the same position – it freaks me out to see just how many people are missing this all important fact. They both have pretty much the same offensive style.  Typically, a player will go to a team that needs his specific skill-set, but not this time–Lebron decided to go to a team that already had somebody doing exactly what he does. I'm not sure what was going on but maybe they didn't notice that…
Lebron James and Dewayne Wade have the same slashing/penetrating style – Anybody that plays pickup ball knows what happens when you put a bunch of dudes who insist on driving to the bucket on the same team–the lane gets clogged up and the game gets sloppy.  And if the lane is clogged up then it only follows that…
Bosh will not get as many looks because of their style – Bosh is a good player, but he's a big man, and just like every other big man in the NBA he needs good offensive spacing to operate.  When the lane is filled with two big guards trying to penetrate all the time (because both of them can be streaky w/ the outside shot) what's going to happen to Bosh?  Nothing good.   He will get less touches and be less of a factor.   Defense in the NBA is a very advanced thing and don't think that other coaches around the league haven't already noticed that…
Defenses can stop Wade and James by doing the same thing – Backing up off them and packing it in tight.  Lebron will have some nights where he knocks down a few 3-pointers, as will Wade–but does that make them legitimate 3-point threats? I don't think so.  I think teams are going to back up off them and make them prove they can knock the shots down every night, a strategy that also stops them from driving the lane.


Defensively they have no inside presence – What big man do the Heat have that's going to defend any of the legitimate big men in the NBA?  You got me. It definitely isn't Bosh.
Chemistry is a lot easier to find when everybody has a role to play – I hope we haven't forgotten what happened at the Olympics yet, and how winning it all isn't about putting the most all-stars on the floor.  It's about having the beast team.  The guys who play the best together typically win.
Now don't get me wrong, the Miami Heat will be a very exciting team to watch.  Up there with the Denver Nuggets or the Phoenix Suns, but I foresee a lot of fundamental chemistry problems that could stop them from winning a title.  The main problem is that if all of your stars need to be in the lane to create shots then teams can defend them much easier.  The only resolution is to put some lights-out 3-point shooters on the floor, but finding shooters like that in the off-season is easier said than done.
Another line of thinking that's being blown out of proportion is that the Heat will win a championship just like the Celtics did simply because they put three all-stars on the floor, which completely oversimplifies what the Celtics actually did.  Yes, the Celtics had three NBA all-stars but they each played different positions offensively, thus creating an offensive spacing that allowed each of them to shine.  The only true penetrator the Celtics have is Rondo; Paul Pierce usually operates from the foul-line extended, Ray Allen operates around the 3-point arch.  Without this spacing there's no way Kevin Garnet would be able to get as many opportunities to score in the paint, and when KG gets good looks defenses have to account for him, which gives the outside shooters great shots.  Same theory applies to Dwight Howard.  Granted, Orlando shoots a lot of outside shots and has nobody who can really drive the lane, but Howard is able to get his shots because they have great spacing.  You have to defend the outside shot, and when you do he dunks all over somebody.
Now ask yourself, how is this going to work on the Miami Heat?
I think you get my point.
If you ask me, Lebron should've went to either the Orlando Magic or the Chicago Bulls, but hey I'm just a basketball fan and we'll have to see how it plays out.  If they fuck around and win a ring and I'm wrong about this feel free to remind me.  If you're a basketball fan, what do you think?  Do the Miami Heat have what it takes to win a ring next year?
Word is Blog
BLUEPRINT
---
My latest album
Two-Headed Monster
is out now.  Order/Listen here
HERE