The Last So What Wednesday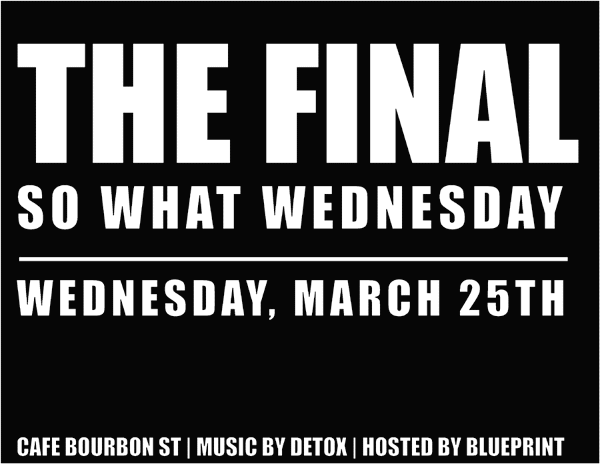 If you live in Columbus then you probably know that I've been a part of a weekly hip-hop night called So What Wednesdays for about 2 and a half years. It goes down every week at Cafe Bourbon Street. The night was created and named in remembrance of our dude Daymon Dodson (aka So What) and we have held it down for a while hopefully in the spirit of what he was about. I host it and DJ Detox has been there on the turntables since day one but we've also had Rare Groove and POS 2 helping out as well at certain points. We've also had performances from One Be Lo, DJ Abilities, Mac Lethal, The Catalyst, J. Rawls, Illogic, myself, and many others that i can't even remember right now. It has always been a good time and a good outlet for people who wanna hear classic hip-hop shit.
At any rate, tonight is the final So What Wednesday. Since I've announced this last week, a bunch of people have been asking why its ending, which is understandable. The only thing that bothers me is when people who haven't come out in a year ask. They'll be like "why is this ending? i havent been there in like 2 years, but it was great when i went" And i have no words.
What I'm sayin is this: things are special not because me and detox are there every week and Detox is playing good music–things become special when you decide to make it special, because then memories are made. if something is special then it's because you and your friends made it special and decided to make it happen. So to all my people who came out and made this shit special–thank you. I don't regret doing it at all and had fun every week i was there, whether there were 15 or 150 people there.
So that's all I got. I'll be there tonight doing what we've been doing for the last couple years, having fun.
Word is blog.