Talking MMA tonight on MMA Uncensored show 8pm Mountain Time / 10pm EST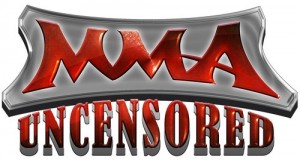 As many of my friends know, I'm a pretty big fan of Mixed-Martial Arts (MMA).  I think I started watching it about four or five years ago, and have been into it pretty heavily ever since, as proven by my MMA-related tweets whenever there's a big event on.  Hell, a lot of my time in the studio is spent watching classic fights that I missed before I was a fan of the sport.
Well today I get to take my obsession with MMA to a new level because I was invited to call in and talk MMA on the internet show MMA Uncensored, which will be on from 7-9pm Mountain Time.  I will be on there at 8pm Mountain time (10pm Eastern time), talking about the upcoming UFC on FX show that's going down tomorrow night, previewing the matchups and just talking about the fighters.
As a person who's definitely a nerd about the sport, but doesn't really get to chop it up with people about it to often, I'm pretty excited.
So, if you're a fan of MMA (or just curious about my thoughts and knowledge of the topic) and free at 10pm Eastern Time / 8pm Mountain Time, please tune in.
Here's are the details:
Date: Thurs Jan 19th
Time: 8pm Mountain Time / 10pm Eastern Time (the show actually starts at 7pm Mountain time. I'll be on the 2nd half)
Website: http://www.gomilehigh.com/home.cfm (click on the "Listen Live" button)
Twitter: @printmatic and @mm_uncensored
UPDATE: Here is the audio of the interview:
Word!