Playing J Dilla Tribute In Columbus on Feb 10th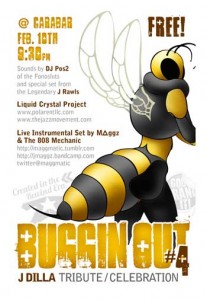 To all my friends in the Ohio area, I will be playing an instrumental set in Columbus on Friday Feb 10th @ Carabar (115 Parsons Ave), as a part of the J-Dilla Tribute Night being put together by my homie Zero Star.  The event is Free admission and all ages are welcome.  I am working on a couple instrumental projects under the name The 808 Mechanic, and this project will be my opportunity to do play some of this material out for the first time.  Just to clarify, I will not be rhyming, I will be playing an instrumental/beat set.
Hope yall can make it out.
Word.