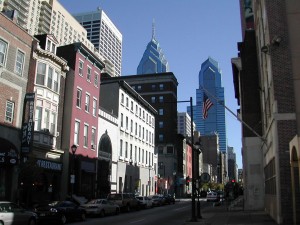 Admittedly, I'm a midwesterner at heart, so I've never been a fan of the fast paced, impersonal, nickle-and-dime-you-to-death feeling I get when I visit most east coast cities.  New York being the most blatant example of that; I can only take a couple days there before I start feeling overwhelmed and wanna go home.
But Philly is different.
I've always liked Philly.  I might even go as far as to saying I've never had a bad show in Philly.  In fact, when I really think about my history in Philly I realize that it's been full of epic moments since I've been coming here.
Where New York is loud and overwhelming, Philly is subtle and understated. Where Boston is abrasive and rugged, Philly is smooth and elegant.  All the amenities of a huge metropolitan area, but the personal touch of a midwestern city.
The first time I visited was in 2002 on tour with Atmosphere, Murs, and Brother Ali.  Murs grabbed one of the TV sets that was near the stage and broke it on stage during the set.  Soon as he grabbed the tv set I was like "noooooooooo!" hoping he wasn't about to do what I thought he was gonna do (smash the tv set right on the center of the stage), but he did it anyways–and it was great.  I'm pretty sure the club deducted the cost of that tv set from the tours' money that night, but it was one of those memories that anybody would gladly pay a little more for.  Then after the show he insisted that J-Bird drop him off in South Philly because he wasn't leaving Philly without getting some authentic cheese steak.  I think Murs already understood Philly in a way that I didn't.
In 2005, I remember playing at the First Unitarian Church on the Scribble Jam tour, right after 1988 came out, and it being one of the livest shows of that tour.  Somebody in the crowd yelled "LO FI FUNK!" and Rare Groove already had it on the tables ready to go–so no sooner had that person yelled it, he dropped it and the place went nuts.  I'll never forget that.
One time me and my dude were hanging out at this bar with a group of super cool girls and one of their friends went into the bathroom and did a bunch of coke, then came out all fucked up and a mess.  So he got her address, pushed her into a cab, and came back inside to kick it with us like it didn't even happen.  So smooth I didn't even notice it until he filled me in later on what had actually happened.
For a while I had a friend that lived in an apt above South street, which is the most poppin street in Philly, so I would crash over there sometimes after shows if we played TLA or Trocadero.  One night we found out Quest Love was DJing at a spot over there so we went to check him out.  I didn't have any cash so asked my friend to get my cover and I would pay for drinks inside with my card.  When we got inside my friend informed me that they let us in free.  I asked her why and she said the lady at the door was like "anybody that brings Blueprint here is alright with me and don't need to pay."  It was a magical night of drinking and dancing to classic soul and funk that I've never forgotten.
I could tell more stories about Philly but I think you get what I'm saying here–Philly got character.
And last nights show on The Family Tour was no different.  Great turnout, crazy crowd, interesting people–and of course no shortage of random ass things happening all over the place.
A fight broke out right after I ended my set.  But from what I could tell it resolved itself.  Security tried to step in and regulate and the kids basically yelled at him enough to make him give it up.  Fight or no fight they came for a show and they weren't gonna let him kick anybody out.  It was cool to see people police themselves.
As I was walking back to the merch table after my set a cat gave me props on my set and started freestyling in my ear immediately.  I was kinda in shock that he just went in like that….he didn't even ask…he just started rappin.  The funniest part was that I kept on signing CDs and taking pictures while he freestyled.  Clearly he couldn't be stopped, so I was like "dog, i gotta hit the merch table" then gave him the I'll-be-right-back hand gesture and broke the fuck out.  I was worried about him feeling slighted but later on he came back and bought a copy of the new album so apparently he wasn't too upset with me dippin out like that.
One Be Lo, The Grouch, & Zion I were at the show.  They had a show the same night but ended up canceling their show and coming to ours to kick it.
As I was leaving the show with my two female friends, some random drunk dude was standing on the sidewalk reaching into his pants, grabbing his dick like he was about to pull that shit out.  I think the only reason he didn't was because he saw me.  Otherwise he definitely would've done it. Weird shit.
A couple minutes later, as they were on the way to drop me off at the place I was staying, we saw a car that had just ran into a pole and was totaled.  It had smoke coming from the inside so we got out, called 911, and ran over to it.  There was an old man inside who couldn't get out of the car because the door frame was bent up, preventing the door from opening, so I ran to the other side of the car and pulled the car door open just enough for him to get out.  He asked me had he hurt anybody and I told him no, but that he had just hit a pole and totaled his car.  He said, "oh, well I'm definitely going to jail."  I think he was pretty drunk.  Paramedics showed up about 5 minutes later and we bailed out.
It was a crazy ending to the kind of night that has come to define what the city of Philadelphia is about–character.  The good, the bad, the ugly.  I've made so many friends, and had so many good times and one-of-a-kind moments.
But I say all that to say this–Philly is dope.
Word is Blog
BLUEPRINT
---
My latest album
Two-Headed Monster
is out now.  Order/Listen here
HERE