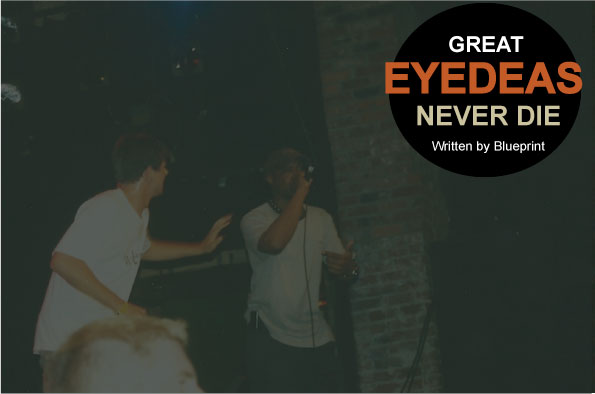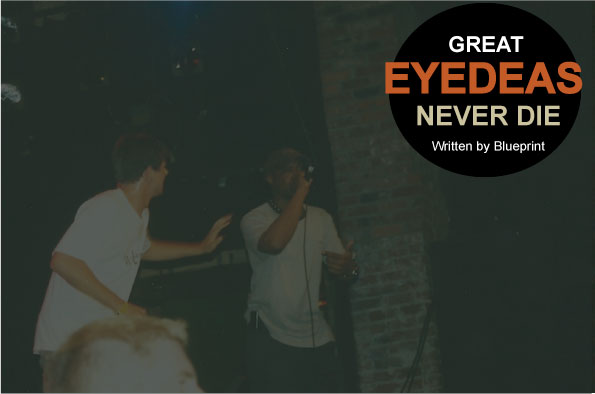 For those who have checked out the track list to my upcoming album King No Crown that will be released April 28th, you may have noticed that the final song on the album is titled, "Great Eyedeas Never Die." This song is about my late friend and original Rhymesayers artist, Eyedea (aka Michael Larson).
Those who know me know that outside of the story I told about me and Eyedea on my blog (that also appears in my Word is Blog: Volume One book), I have never really made any formal comments about his passing in 2010. To people on the outside, he is just the talented MC Eyedea, but to me he is Mikey–somebody I have known since he was 16 or 17 years old.  When you have known somebody for that long and consider them a friend, it makes commenting publicly about their passing very tough. I thought it would be easy, but quickly found out it wasn't.
But as time went by I started to feel that keeping my feelings bottled up inside was preventing me from mourning properly.  And once I realized that, I knew I had to write and pay proper homage to him.  The result is "Great Eyedeas Never Die."
Once I knew that I would be releasing this song on King No Crown, I sent a copy of it to his mother to make sure I had her approval and blessing. She told me she loved it and we spoke on the phone a few days later.  I asked her if she would ok with me driving out to St. Paul to get some old pictures and video footage from her to possibly use for a music video for the song and she was ok with it.  So back in January, I drove out to Minnesota for a few days. We went through a ton of Mikey's old memorabilia while eating Pizza Luce and Jimmy Johns.  I got so see Mikey's studio and get scans of a lot of pictures and video footage from her.  I recently finished the music video and hope to share it with you all very soon.  I want to do a great job and pay proper respect to her son and my friend, but I didn't want to put too much pressure on myself. Right now, I feel very good about how it came out.
I will keep you all posted on things as they progress.  In the mean time, here is a private link to the snippet of the song for those who want a sneak peak:

Word is Blog.
BLUEPRINT
---
My latest album
Two-Headed Monster
is out now.  Order/Listen here
HERE