Blueprint featured on hiphopdx.com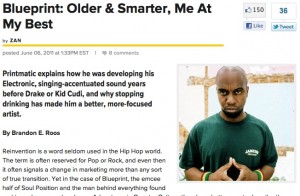 I posted this earlier this week on Twitter and Facebook, but some of you may have missed it.  Please check out this excellent feature that hiphopdx.com wrote about me and Adventures in Counter-Culture.  Covers everything you need to know about the album and the story behind it.
Please take a second and check it out HERE. 
Here's a quick quote from the piece:
"Back in the day,  A Tribe Called Quest, Ice Cube, [and] tons of people would kind of draw lines in the sand, where [Hip Hop was only if] you were sampling and you were rapping, but if you were actually playing something or you were singing, it wasn't real Hip Hop. But I think it was just like a set of rules we had. Hip Hop is just being creative. It's taking something out of its context and being creative. I think that's the more important rule of what Hip Hop is. It's all these genres that from the beginning were a part of it and expanding it, but I think at some point Hip Hop just became, I don't want to say a parody of itself, but it definitely started becoming really insular, where like it was defined by everything that was before it as opposed to branching out and becoming something new and creative like it should have been, and I think I was subject to all those same rules that everyone else was –  trying to quote unquote "keep it real" when I think that as an artist, I was always capable of doing more.
I also want to thank everybody that rated Adventures in Counter-Culture so highly on hiphopdx.com.  They are one of the largest hip-hop websites on the net, so it's great to see them show me some love and support!
Word is Blog.