Blueprint feature in the Orlando Weekly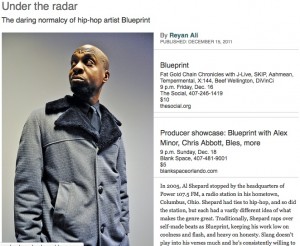 Last week when i was in Orlando, their weekly paper The Orlando Weekly did a great feature on me and Adventures in Counter-Culture.
Please check it out here: http://orlandoweekly.com/music/under-the-radar-1.1245038
Here's an exerpt:
In 2005, Al Shepard stopped by the headquarters of Power 107.5 FM, a radio station in his hometown, Columbus, Ohio. Shepard had ties to hip-hop, and so did the station, but each had a vastly different idea of what makes the genre great. Traditionally, Shepard raps over self-made beats as Blueprint, keeping his work low on coolness and flash, and heavy on honesty. Slang doesn't play into his verses much and he's consistently willing to experiment with different moods and sounds in his beats. (He's had albums issued by stately indie hip-hop label Rhymesayers.)

On the flip side, Power 107.5 FM's tastes lean toward bombastic hooks and larger-than-life characters; a cursory look at the station's recently played tracks turns up Beyoncé, Lil Wayne, Nicki Minaj, Wale and Drake. Around the time Blueprint's 1988 was released, according to Shepard, the two entities butted heads (CON'T).
Word is Blog
---
---