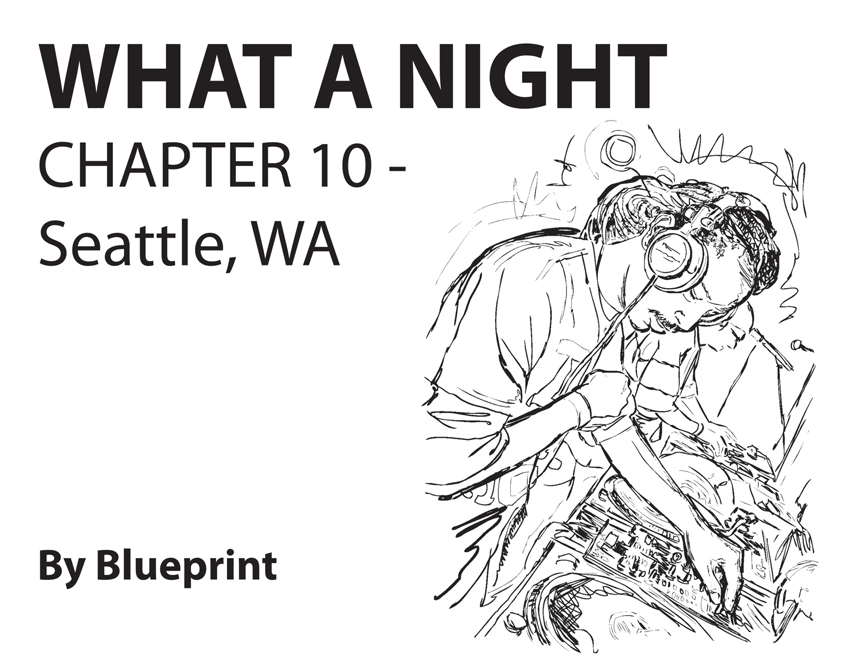 What A Night: Chapter 10 – Seattle, WA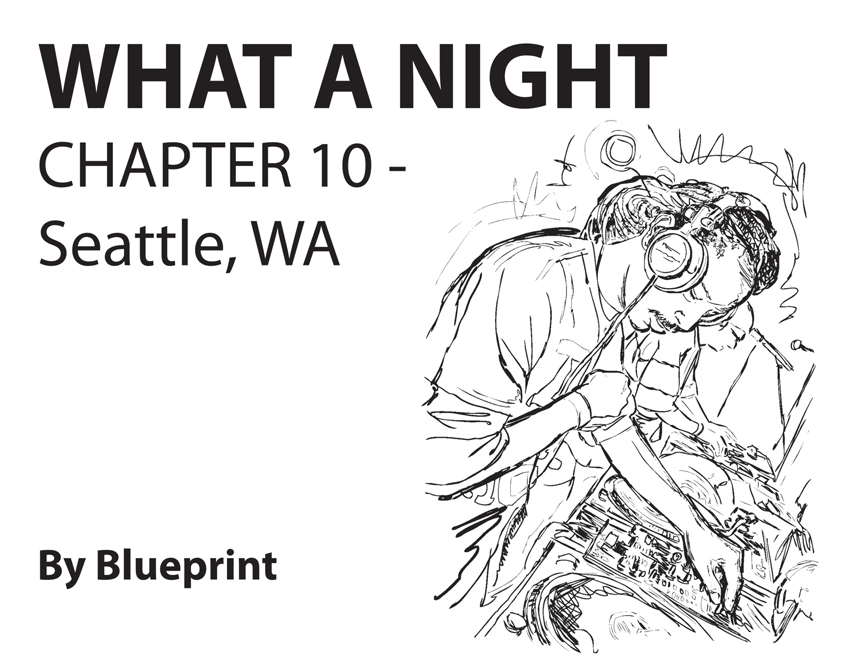 Chapter 10 – Seattle, WA
In 2006, I began working on my sophomore album, Adventures in Counter-Culture. From the beginning, my goal was to make the most ambitious album possible.  I wanted it to defy genres, summarizing everything I had ever learned about music into this one album.  I was tired of being boxed in with terms like "commercial" and "underground."  I wanted Adventures in Counter-Culture to escape those classifications.
I knew that I couldn't make the album correctly until I truly walked the path of a student, so I took a child-like approach that emphasized discovery and learning as opposed to mastery and refinement.  Instead of digging deeper into areas I was already familiar with, I sought to investigate the blind-spots in my knowledge by exposing myself to as much new music as I possibly could.  During this time, I even stopped playing local shows with other hip-hop artists, opting to play with bands instead.  My belief was that I had more to gain by studying the performances of other genres than I did by further refining my existing knowledge of hip-hop performances.  And only through entering different environments, would I be inspired to do things differently.
I spoke to my booking agents and told them I wanted to stop doing hip-hop tours for a while and open up for some bands.  It was time for me to get out of my hip-hop comfort zone.  As a result, I was offered an opportunity to open up for a band called Islands on their North American tour.  It was a brand new experience that DJ Rare Groove and I were excited about.
The only downside to the tour was that we weren't making that much money, which was to be expected as an opening act.  But that wasn't going to stop us from doing it; the tour was still a great opportunity, and it beat sitting at home making nothing.  Fortunately, I got contacted by a promoter in Europe who wanted to fly us overseas to play three shows during the dates when the Islands tour was routed into Canada.  That was the best thing that could've happened since DJ Rare Groove's passport issues stopped him from getting into Canada anyway.  Plus, the money for the Europe shows was significantly higher and took the financial pressure off the dates in the United States with the Islands.
Two weeks into the Islands tour, the time quickly arrived for me and DJ Rare Groove to do our shows in Europe.  The plan was to play with them up until the Minneapolis show, then fly to Europe when they crossed over into Canada.  After our three shows in Europe, we would fly back to meet Islands for their Seattle show.  It was a somewhat complicated plan, but our travel to Europe went down without a hitch.  In four days, we played one headlining show in Norway and two shows in Denmark with the Living Legends and Rhymefest.  All the shows were solid.  It felt good to play in front of a hip-hop crowd again and even better to make some good money.
Everything about our plan was working out perfectly, until we flew back to the United States.
Although DJ Rare Groove and I passed through the first immigration checkpoint in the Seattle airport with no problems, everything changed when it was time to go through the second check point.  Before we could even stand in line with the other passengers, two officers came out and told us to grab our bags and come with them.  We thought they were going to take us to the regular checkpoint, but they took us to a completely different hidden area and searched us. They didn't find anything on me, but my heart dropped when they found a really small amount of hash on DJ Rare Groove.
"They go through all of our shit and as soon as these fools touched my fifth pocket I was like, "Damn!" I completely forgot about that damn hash.  I felt like a fucking idiot.  I was disappointed in myself and felt like I let Print down like a muthafucka." – DJ Rare Groove
 I knew we were screwed.  Once the officers found that hash, they turned into even bigger assholes than they already were.  They made us empty out our clothes bags and go through every single item with them.
"So you got anything I should know about like your friend?"
"Nah, I don't do drugs."
"You don't smoke weed or hash?"
"Nope."
"Well see about that."
Then the officer pulled out a camping flashlight that I had in my merch bag.  He flipped it open, saw the reflective glass on it and said, "So, is this what you sniff coke on when you're in the club? Huh?"
"I already told you, I don't do drugs," I replied.
The officer facilitating that whole thing wasn't any  better.  Every time I told him something, he would ask me if I was sure, as if I didn't know what the truth was.   After they'd emptied our bags, they took us both in separate rooms to interrogate us some more, asking about our trip and getting details on what we were doing in Seattle.  It was humiliating.  They treated us like terrorist suspects.  Then, after an hour of searches and questioning, they told me I was free to go but that Groove was headed to jail.  Furthermore, I would have to repack his bags and take all of his luggage and gear with me.
I felt sick.  I knew they were gonna do something, but it seemed kind of extreme to take him to jail for such a small amount of hash.  I sat there for a while trying to wrap my brain around what that meant.  First, it meant I didn't have a DJ for the show that night.  Second, it meant I was going to have to get him out of jail.  I didn't say anything, but inside I was so upset at him for not being thorough about emptying his pockets.  I wanted to curse Rare Groove out, but they took him off to jail so fast that I never had a chance to speak to him.
Once they took him away, the gravity of the situation started to sink in.  I immediately realized that I had no ride to the show because a girl who was dating Groove's friend Chris was supposed to pick us up from the airport, but I had no idea who this girl was or how to get in contact with her.  I didn't even know how I was going to physically carry all eight of our bags out of the terminal we were in.
I looked at the time, and I realized that doors were about to open up for the show.  I was no less than 30-minutes from the venue.
I eventually got all of our baggage to the curbside pickup and just waited.  Our friend's girl ended up coming out to the airport anyway and recognized me.  When she asked where Groove was, I told her that he was headed to jail because of the hash. It had to be a pretty confusing situation for her, but she handled it like a champ and got me to the venue as fast as she could.
I got to the venue almost two hours after doors opened and noticed my name was scratched off the show schedule the doorman had taped to the door.  I started getting confused about whether I should even bring all that gear inside the venue if they had already cancelled my performance.  I spoke to the doorman and he said my name was scratched off the schedule because I hadn't showed up, and they thought I wasn't playing. In my absence, they had asked the other opener, Subtitle, to go on in my place.  They said that I had about 20-minutes before Islands went on, and I could still play a short set if I wanted to.  After everything I had been through, I figured I might as well try.  I didn't fly all that way for nothing. I hustled back to the car and started loading Rare Groove's turntables and equipment on stage in front of a packed room.  I was so disoriented and nervous from everything already that I was shaking as I setup the turntables.  Plus, I was exhausted and damn near delirious from the eight-hour time change and from flying directly to Seattle from Denmark.  I didn't know what the hell I was going to do.  I decided to try my best to setup and do something, even if it was just one song, so that I would at least get paid for doing what I was hired to do.
I got on stage and tried to setup our turntables, but couldn't get them to work because of some missing pieces.  Ten minutes had passed before I made any real headway, and I noticed that I only had time to perform one or two songs.  All the people watching me setup made me even more nervous and frustrated.  I wanted to quit.  I decided to tell the crowd what happened and that I wouldn't be able to perform at all:
"Ok…Umm….look guys…I really want to perform for y'all tonight.  But some crazy things have happened today.  On my way back to Seattle from Europe, my DJ got arrested in the airport.  Now I don't have a DJ…and I don't know how to set this up fast enough to really do this show…and…I'm not sure I'm going to be able to…"
Then, at the exact moment I was about to tell them that I couldn't get my equipment setup in enough time to perform, I looked to the right of the stage and saw somebody hop over the rail and onto the stage from the right side.  It was DJ Rare Groove!
"Oh shit!! That's Groove right there!!!" I said.
I couldn't believe it was him.  Groove came up and gave me a big hug and the crowd started cheering. I had no idea how he got there, but I was so excited to see him that I could've cried.  I don't think I had ever been so happy to see him in my life.  I later found out that the police only gave him a ticket and decided to let him go once the charges were filed.  Luckily, the police station was close to the venue, so he caught a cab straight there to catch up with me.
Unfortunately, we still had less than ten minutes and were only able to perform two full songs.  We did our two songs, thanked the crowd, and packed up our equipment.
What a night.
---
My new book, What A Night: A Book About the Worst Shows of My Career will be available November 18th and preorders start shipping this week.  Order your copy here: http://bit.ly/1vVF38T.  Paperback version is signed and comes with a free 11×17 poster and a sticker.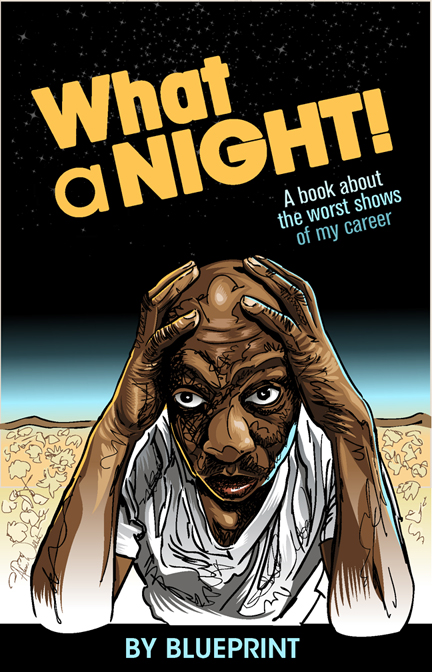 BLUEPRINT
---
My latest album
Two-Headed Monster
is out now.  Order/Listen here
HERE