Weightless Recordings website relaunch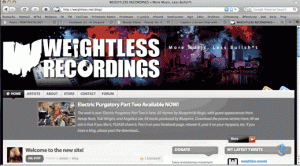 Hello Friends.  As many of you know, I run an imprint called Weightless Recordings.  We recently redesigned our website and are relaunching it today.  Please stop by and check out our artists and releases.  If you were familiar with the old site then this definitely looks different, but we believe it will allow us to update it much easier and provide more useful information on our releases and artists (myself, Illogic, Greenhouse, Envelope, Zero Star, DJ Raregroove, etc.). 
Thanks for your support!
BLUEPRINT
---
My latest album
Two-Headed Monster
is out now.  Order/Listen here
HERE