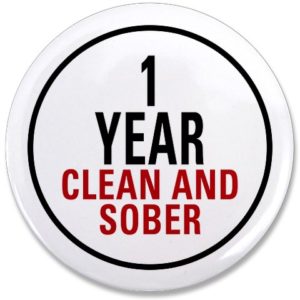 If you've been following this blog for a while, then you know I recently stopped drinking alcohol.  It was a pretty big part of my life as a touring artist, as well as my social life at home, so to many people my decision to quit came as a surprise.  Some people didn't and still don't believe that I don't drink anymore.  I don't get offended, I just take it as an example of how much i had become associated with it.  Other people have found inspiration in my decision to quit, which has been encouraging.
Well today, May 15th, is my official one year clean and sober date.
Although I'm not exactly sure how to celebrate this milestone–in the past I would celebrate with a drink–I realize that I have a lot to be thankful for.  So many friends have opened up to me about similar problems and let me know that I'm not alone in my journey.  I've met so many people at shows who have gone through what I've gone through, and have many more years of sobriety under their belt than I do.  Meeting them and talking to them at shows has given me strength to continue on this path. 
I'm not one to say that alcohol or drinking in itself is bad.  It's all about the person and moderation, and whether they can be happy and productive with alcohol in their lives.  I realized that I couldn't anymore, so I had to quit.  As a result I feel like I've finally been able to refocus my energy into what's really important–becoming the best person and artist I can be.
When I made the decision, a year of sobriety seemed so far away; almost impossible.  But making it to this milestone gives me so much more resolve–about everything, not just drinking.  If you set your mind to do something, and really want it, you can do it.  Whether that be school, family, job, music, art, etc; you can do it.  Not to say that there wont be a lot of obstacles and detours along the way, but you should never underestimate your own power.
No matter what you're up against, there's gonna be times where it's kicking your ass, but you gotta push through it.
one day at a time.  one week at a time.  one year at a time.
one year sober.
word is blog
BLUEPRINT
---
My latest album
Two-Headed Monster
is out now.  Order/Listen here
HERE