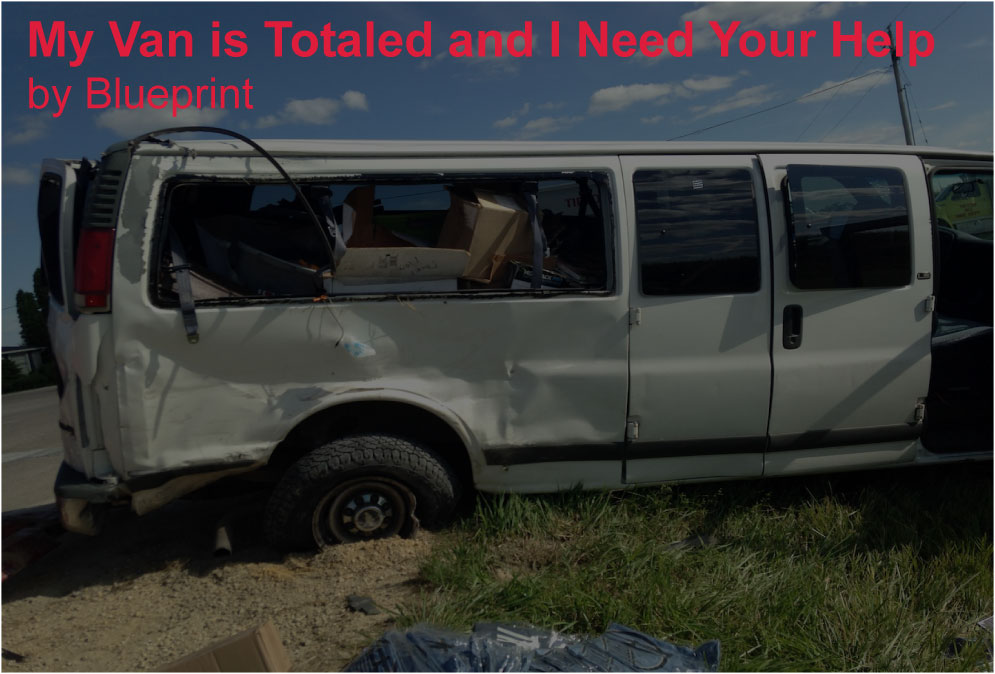 My Tour Van is Totaled and I Need Your Help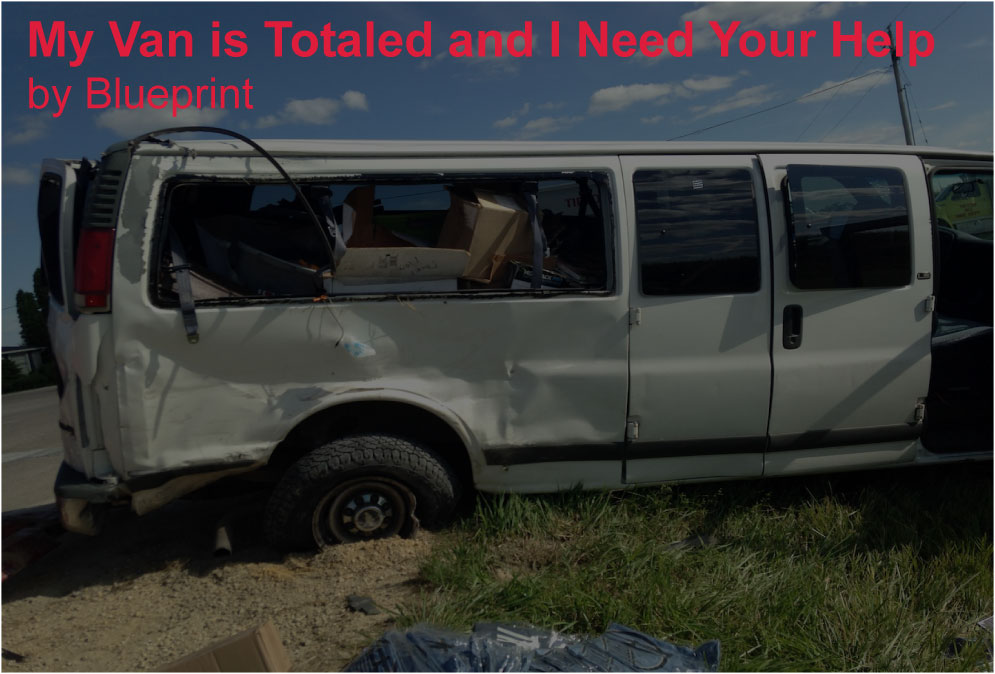 Although almost every day on the King No Crown tour has been memorable for one reason or another, today is a day that I will probably never forget because it is the first time that I have ever gotten in an accident on tour and the time I came the closest to losing my life. I am still pretty shaken up by today's events but I will explain.
Today was a long-awaited off day on tour–the first one in 12 days–and we were driving from Kansas City, Missouri to Oshkosh, Wisconsin for our show there Thursday night. Me, DJ Rare Groove, and Supastition had been driving for about six hours (of a ten hour drive).  As I was driving on a small backroad somewhere in rural Iowa (I'm still not sure what city we were closest to), I failed to recognize a stop sign that was ahead.  Not noticing the stop sign until I was pretty close to it, I slammed on the breaks, but my van (a Chevy Express 12-passenger van) is almost impossible to completely stop with such little advance, so we slid out into the intersection.  As we were sliding out, we all saw a car speeding towards us from our right side.  Trying to ensure the car didn't hit the side where Supastition and Rare Groove were, I lifted up off the break hoping it would  instead hit the back of our van.  The car hit us full speed near the back of our van.  Upon impact the windows on that side of the van shattered.  Our van was knocked into a spin, all the way across the intersection. The force of the impact was so strong that our van then flipped over at least once or twice.  While it was tumbling, everything seemed like it was moving in slow motion and almost like a dream, or maybe a slow motion nightmare where you have absolutely no control over what happens next.  When the van stopped rolling we were on the other side of the road in the grass and the van was laying on its side with the driver's side door facing upwards.
After we checked on eachother, we saw that everybody inside appeared to be ok.   We saw people running over to our van tryng to figure out how to get us out.  We were trapped for a second because of the way the van was lying on it's side and how heavy the doors were to open from that position, but I eventually pushed open my door and was able to start climbing out; then helped Supastition and DJ Rare Groove get out.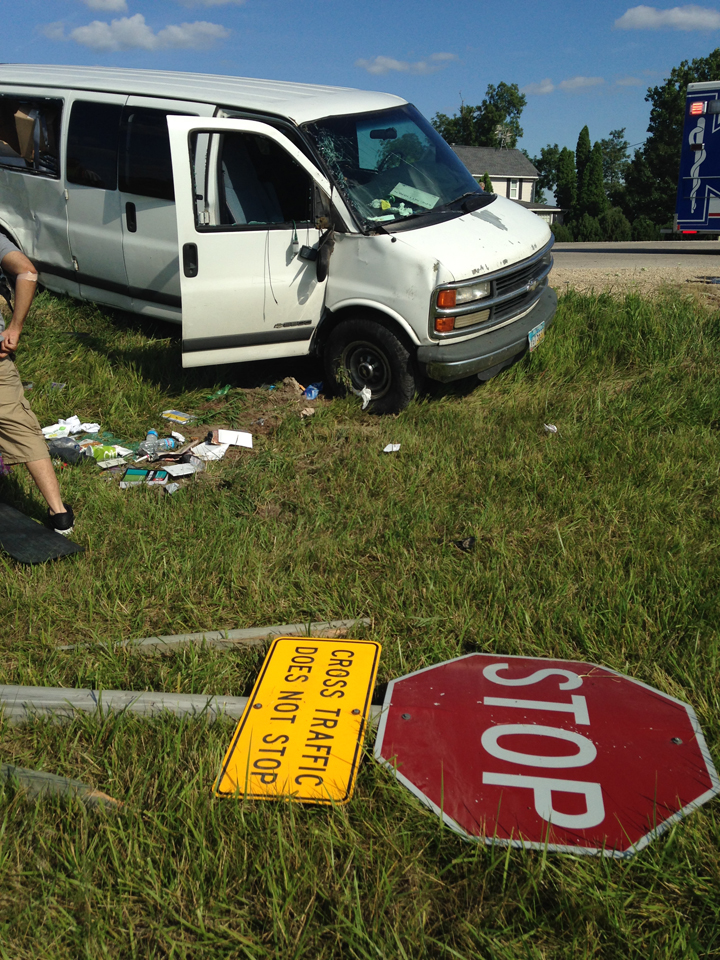 We were all disoriented when we got out. I noticed the other drivers were the ones checking on us.  Their car was totaled and leaking some sort of fluid, but they were also ok; having only scratches and cuts to show from such a dangerous accident.  Once we got outside and a tow truck flipped the van back over, I could see just how serious the collision was.  DJ Rare Groove's clothes bag had been thrown 50-100 feet away from our van.  Everything within 10-15 feet of the van was littered with our CDs, t-shirts, books, and vinyl.  The rear two windows had shattered on impact and the rear doors were so badly damaged that they couldn't be opened. The passenger side rear window was gone and that side was complete ruined.  The rear axel was bent so badly that it was tough for the tow truck to even latch onto it to tow the van.  My van was totaled and we had all been very close to losing our lives.
But miraculously we are all ok.  Supastition suffered some cuts to his arm when the glass shattered from the rolling, and DJ Rare Groove suffered a cut on his face and a slight bruise to his forehead.  Considering the seriousness of what happened, it is amazing that nobody involved in the accident needed to be taken to the hospital and all declined medical care.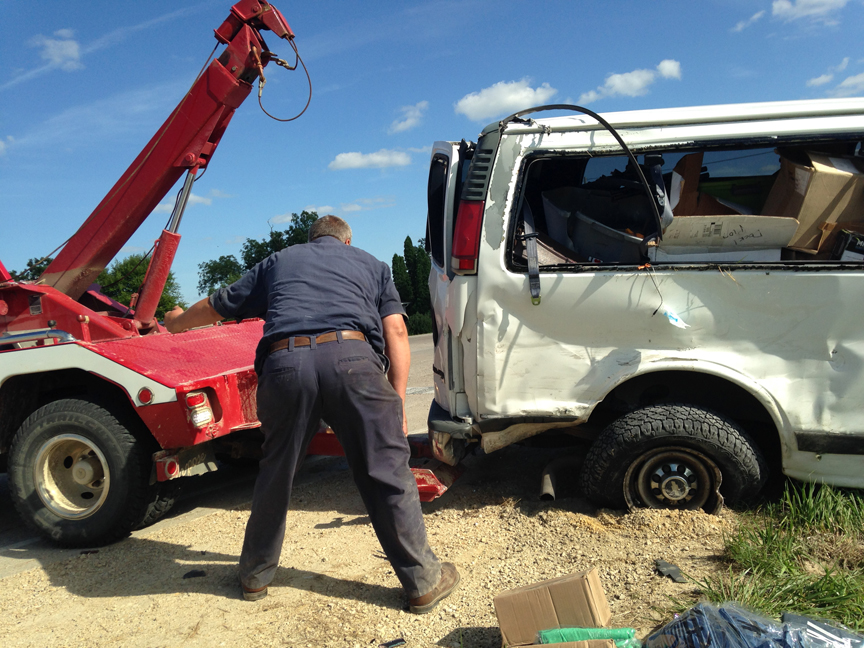 Personally, I am still shaken up and disappointed in myself for not seeing that stop sign and putting the lives of my friends in jeopardy. In my 13 years of touring, this was the first time I had ever been in an accident, and it is one that we are very fortunate/lucky/blessed to walk away from.  One split second difference and I might not be here to tell this story to you.  I have apologized to Dj Rare Groove and Supastition, but my heart is still heavy over today's events.
Once they flipped the van back over and I saw how bad the damage was, I felt in my heart that this would probably be the last day of the tour, even though we still have a little less than two weeks to go.  I just didn't know how we could possibly recover from such a setback.
It was extremely heartbreaking to see my van, that has allowed me to finally go out and tour like I always dreamt about over these last four years, getting towed away in a completely wrecked and almost unrecognizable state to some small town with all of our equipment and all of our merchandise still in it.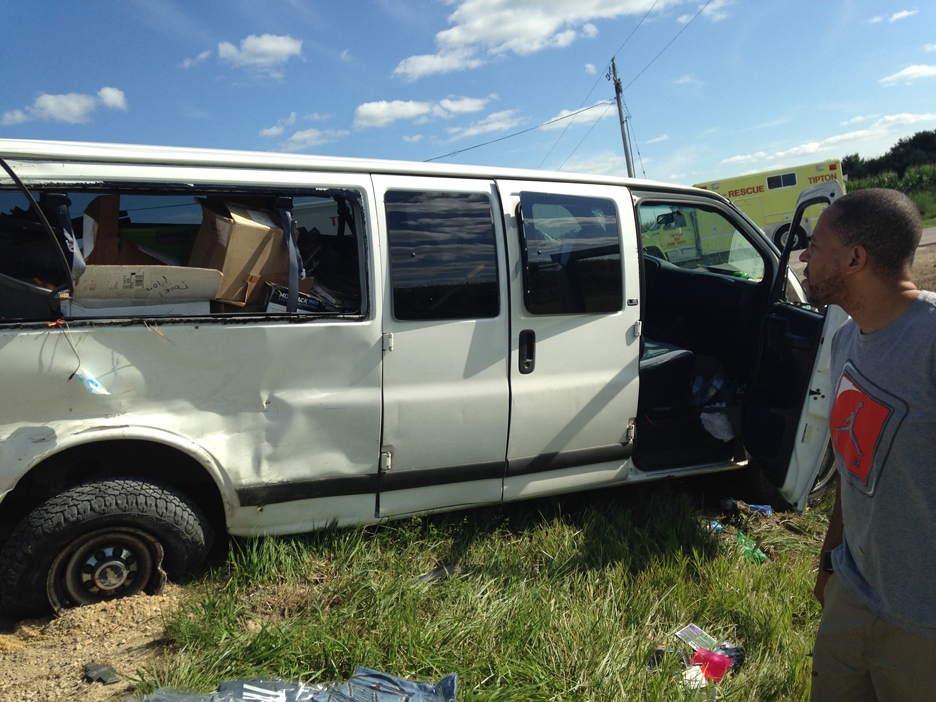 Since we were in the middle of nowhere and dependent upon police transport we could only take our personal stuff with us. One of the police officers was kind enough to drive us 50 miles to the nearest real city and airport so we could get a hotel and regroup.  During the drive, the officer received a text from another officer who was also at the scene of the accident and picked up one of my cards.  Inside the text was a link to my music video for "Perspective."  The other officer told him he should check it out.  I was in the back seat on the verge of tears when Rare Groove tapped me and told me to look up.  The officer who was driving us to the airport held up his phone and played the "Perspective" music video right then and there, then said it was really good.  Hearing that song play lifted my spirits a bit and made me think about how maybe I wasn't recognizing just how fortunate I was just to be alive.
When I got to the hotel, I called my mother and told her what happened. She told me to not get discouraged and not to be too hard on myself because even though I had lost my van, we still had what was most important–our lives and our health. She could hear in my voice how defeated and guilty I felt, and told me that if we can find a way to continue the tour that we should.
I agreed with her, but just wasn't sure how we could continue without the van. Then I remembered how I got the van in the first place.  I was able to buy that van because of my fans.  In 2011, right after my album Adventures in Counter-Culture came out, I decided to get my own merch booth at Soundset.  That day, my fans supported me so much and bought so much merch that I was able to purchase that van with the money I made from Soundset.  So today, when I got off the phone with my mother, I had the idea that maybe I should ask my fans if they would be willing to help this time around as well.
I don't expect anybody to do anything, but if you would like to help contribute towards me getting another van so I can continue touring as I have been the last four years your contribution would be greatly appreciated. I always run into fans who ask me how they can help besides supporting the music and sometimes I don't know what to say. I guess this is an instance where maybe there is a way to help besides supporting and spreading the word about the music.
If you would like to help, I have setup a gofundme page here:
http://www.gofundme.com/zyfvns
Even without any contributions, we will be trying to figure this thing out either way in hopes of finishing the King No Crown tour like we set out to do. Here are the remaining dates of the tour:
7/23/2015 Osh Kosh WI @ Reptile Palace
7/24/2015 Traverse City MI @ The Hollow
7/25/2015 Ann Arbor MI @ Blind Pig
7/26/2015 Pittsburgh PA @ Thunderbird Cafe
7/27/2015 Freeport NY @ Bamboo
7/28/2015 Manchester NH @ The Shaskeen
7/29/2015 Portland ME @ Asylum
7/30/2015 Boston MA @ Middle East Downstairs
7/31/2015 Buffalo NY Studio at The Waiting Room
8/1/2015 Columbus OH @ Double Happiness
Thanks for your time & consideration.
BLUEPRINT
---
My latest album
Two-Headed Monster
is out now.  Order/Listen here
HERE